Posts on this page are in a chronological order with most recent updates on the top.
Summertime excursions
When the school year comes to a closure we try to make the best of the warmer and drier days in May and June. Excursions in the local area enrich our everyday routines. This year we scheduled a climb up Knocknarea, a visit to the donkey sanctuary and a tour to Hazelwood for a day in the forest. Hazelwood was fabulous with the sun pouring into the forest through the trees, and a beautiful panorama behind a calm Lough Gill. Some impressions: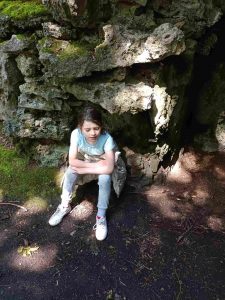 Woodwork Results
A few more results came out of the woodwork room recently:
Freddie was re-created as a statue by Leon, and he found a new friend on the spot:
Ismaela planed, cut, carved and varnished a plaque:
Two birch faces made their way into the big birch tree in front of the school: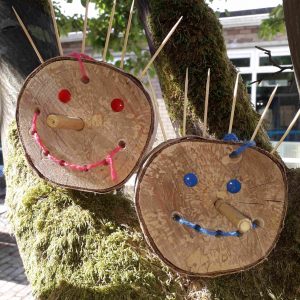 A whole series of marble tracks was produced by the children in Máire's group. They all used their own unique ideas for designing the nail patterns on the tracks, like Michael here: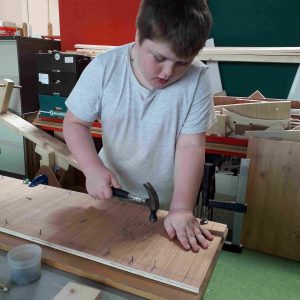 Alex brought home his friend, Mario Nette.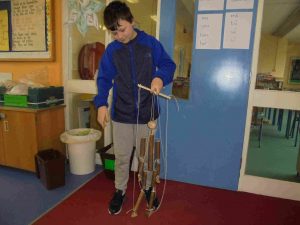 A family of snakes moved into Máire's room …
Tyler made a sword … with decorations!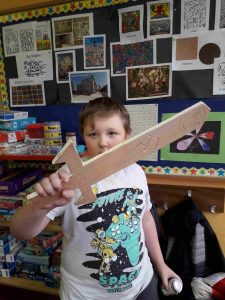 When you come in the next time and you want to know where to go, turn to the pathfinder that Leon made. It is perfectly placed in the corridor beside the hall entrance: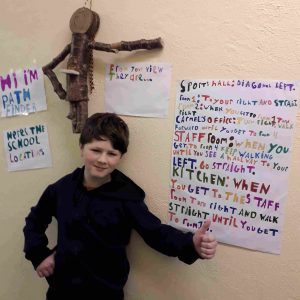 And there has also been another dog house made by Alex (they are actually too big for one person to carry, but very comfortable for a dog to live in):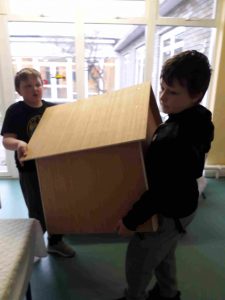 Martin's Café
The installation of our new kitchen facility has been completed. It has been put to use already a few times. But we also had an opening party when Máire's class made it into a proper cafeteria. They named it Martin's Café in memory of Martin Ryan, our school warden who recently died. Martin was a highly esteemed member of our school community and we will fondly keep him in our minds, not the least whenever we gather in Martin's café for a nice meal.
Here are some pictures of the opening day. Máire's class had made pizza, chips, drinks and desserts; the older children were invited as guests of the opening party, and the younger one's did all the essential works as catering staff and waiters, waitresses.
Babies are back
After a while of involuntary exile the babies are back! The children in Máire's room have discovered it as their responsibility to look after their well-being, and their intellectual development by way of reading to them …
We don't know …
how it was possible for this hybrid creature to sneak into SSP undetected after the holidays, but when we discovered his presence we found that he is not a bad character at all.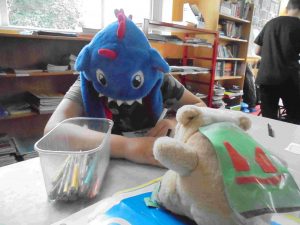 In fact, he is a rather pleasant fellow, and he is quite eager to learn how to read and write. What more can you wish for. So we invited him to stay. We are looking forward to his continued presence in Carmel's classroom.
Halloween – SSP occupied by Secret Society!
A meticulous preparation took place in what was not really an under-cover fashion at Sligo School Project in the week before Halloween for the expected occupation of the school by the Secret Society of the Halloween Horribles. The children prepared what is usually used as our chess-room to host a Board Meeting of the Senior Executive Committee of the Secret Society without the teachers or other adults knowing about it. (What else can you expect from a secret society …).
But against all the panic that is spread in the yellow press about the horribilities of the Halloween Horribles, when they got their food and the comfort of the executive chairs in Sligo School Project they were quite a civilised occupation force. And once they got their daily dose of the Adams Family on the screen, all was hunky-dory with them.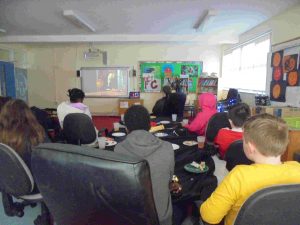 But in spite of the secret society meeting there was also a pretty enjoyable Halloween party going on with costumes, games and food for everyone in the school.
Another film in the pipe
Mia and Mya are two of the characters that the older children have created in a project that will be ongoing throughout the school year 21/22. This project is supposed to culminate in a film production based on a story that the children have developed over the last number of weeks before the Halloween break.
They started off with imagining themselves in twenty years time, in the year 2041. Based on their visions of themselves in the future they created a number of imaginary characters who feature in a story that they collectively developed.
At present a steering group made up of four of the older children work on a transfer of the story into a format of a script for a movie. This work should be finished by the end of the year so that we can start rehearsing the different scenes of the movie from January on. Our aim is to be in a position to produce the movie after the Spring holiday break.
An ambitious project, o.k., but if we don't aim high we won't reach high.
Eagles flying – bird show and pet farm
No, it was not the school tour. But it was as good as a school tour when we visited the bird show and pet farm at Eagles Flying in Ballymote. This is a truly unique facility that is just at the doorsteps of Sligo town  and we are quite lucky to be able to use any possible opportunity to offer the children in our school experiences like this one.
Honestly, when did you hold a real fox in your arm the last time, or a bird of prey on your hand?
Woodwork reactivated
After the long Covid-break during which we had to cut down on a lot of activities in the school woodwork has been taken up again. The children take turns working on individual projects for a few weeks each. Some of the newer results include a hamster cage, a play-sword, a model of a cup, a marble track and a chess board.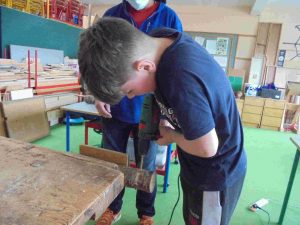 Currently a model of a robot and another play-sword are in the making.
And a whole family of snakes has been made by the younger children already. Pictures will follow.
Chill Room activities
There is no shortage of ideas on the side of the children when it comes to making use of our Chill Room. We have separate page on it here. But there is a constant change in the use of the room, hence a few pictures of activities in recent weeks.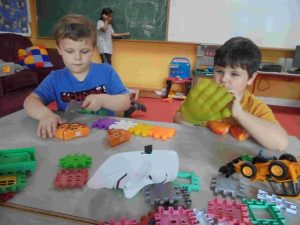 Chess – the next generation
Chess has been a constant feature in our school for the last ten years now. It is one of the activities at SSP that is passed on amongst the children from one to the next generation, but also consciously introduced time again by the teachers. We are looking forward to the next generation of chess players that starts with their introduction to the game now.
Cardboard inspiration
Many of the children in Maire's group have recently started to use the collection of cardboard boxes that we have at SSP. A whole range of houses has been created already, and there are still more in the making – with all sorts of decorations, shapes and sizes.
Classroom routines …
… for want of a better word, because such routines at Sligo School Project do look so much different to most other schools. In our multi-grade classes children learn to the most part in greatly differentiated manner, either on their own or in small groups always depending on interest and current stage of knowledge or skills level.
The icing on the cake …
may be a metaphor alright; but it is also something very tangible if you are a child in SSP: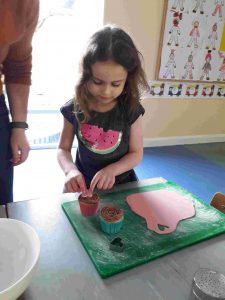 New face for wall at main entrance
Before the summer holidays 2021 we had Brigit Egging in the school. Brigit is an artist who lives and works in Keash, Co. Sligo. She helped the children designing paintings for the wall at the main entrance. The paintings worked out exceptionally well. You'll see when you pass by the school!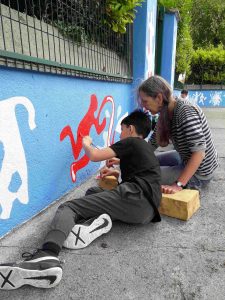 Break time picnic
What a good idea if the weather is pleasant and the grass dry: have a picnic! The children of Maire's group surely knew what they were doing.