Posts on this page are in a chronological order with most recent updates on the top.
NCCA proposal for review of Primary School Curriculum
The Board of Directors of Sligo School Project has issued a statement as a submission to the call by the National Council for Curriculum and Assessment for feedback on the proposal for review of the Primary School Curriculum. The statement can be read by following this link.
Babies in Carmel's room
We can proudly present the results of another addition to SSP: Four babies have arrived in Carmel's room! They were already received with great joy by the children in the school.
Obviously babies need a lot of attention and the one or the other time there are wet nappies, too.
Chess tournament at SSP
We had children from Ballisodare and Manorhamilton at SSP recently for another chess tournament. These events are a real thrill, you never know in advance how good the other players will be. A great credit to John Conlon who initiated the series of tournaments .
If you jump over to the page on activities outside the school, you will find a couple of pictures from the tournament in Manorhamilton, too. The whole set-up is well thought through and we will definitely participate as long as the children enjoy playing chess.
The Euphonium …
… is probably not the best known musical instrument amongst children and teenagers. At any rate we now have a fair understanding of the instrument thanks to Dave Flynn who comes to SSP on a weekly basis teaching music. Carmel's class had a go at the Euphonium in the last session and wow, it was hard work!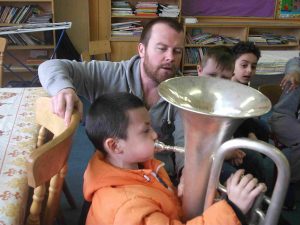 If you don't know what sort of sound to expect from the Euphonium, check here for an impression.
Update in stages
An amount of material, pictures and snippets of information has been gathered over the last couple of weeks. We try to put it all up on the webpage, however it will take a little while to do so, hence it will be an update in stages …
So far, you may have a look at the newly added pages in the 'Extra-Menu', on the page about classroom activities, activities in the school, or also on the quiz-page (yes, we had a winner, in fact a winning team). A bit on the reading day is here further below. More to follow.
Reading Day
Our annual reading day took place on the 9th of March. We changed around the setting a bit. The children read their stories and presentations in Carmel's room. Here the PA-system could be used together with the whiteboard.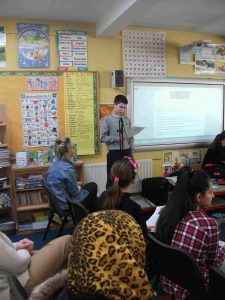 The Chillroom was left free to play particularly for younger brothers and sisters who could not follow the presentations over a longer period of time.
The most remarkable thing on the day was certainly the increase in standards of reading. Whoever attended the reading day over the last few years will have witnessed a massive progress in the reading skills of all children.
We are trying to source the texts that the children have composed for the day and once we get their o.k. we'll put them up on the page, too. Check again.
If you like to have a look at material on the reading day from the last few years, follow this link.
Enrolment
We are open for enrolments for the coming school year. If you are interested in sending your child to SSP feel free to contact us at 071 9143073. Our enrolment policy can be found here. Please be aware that it is essential that a pre-enrolment meeting takes place between parents and school representatives.
Quiz
You may have seen it already … there is a new header available on the top of the pages. In February we have added a quiz for the first time on the website. We'll see how it is taken up and will consider adding new quiz questions from time to time.
GAA Amigos Skills Competition
Eight children will represent SSP in this year's GAA skills competition:
Ieva Stankevicz, Cassie Sweeney, Samara Myers, Aya Alobaidi, Paddy Sweeney, Michael Sweeney, Manus Irwin, Matthew Cullen.
The event will take place at Summerhill College. It will be staged as an after school activity and Deirdre will bring our team to the competition. A date is yet to be confirmed. Meanwhile the children will be practising regularly.
After School Activity: Woodwork
From the third week in February on there will be woodwork offered for children as an after school activity on Tuesday and Thursday afternoons. Robert will work with small groups of four children. The children will all work on their individual projects.
Chess
The children in SSP really got into the game of chess. After learning the basics they are now moving on to even take part in competitions. They played a tournament in Manorhamilton before the winter holidays. And there is a big day planned for the 7th of February when we are going to host a tournament ourselves in SSP. Up to 90 children from three schools are expected to take part and we are looking forward to it already.
Cake Sale and Jumble Sale
There is a new entry about the cake sale and jumble sale on the page on activities in the school. To see it just follow this link.
Winter Performance
A couple of pictures of this year's winter performance actually turned out to be of reasonable quality. If you follow this link you will be able to go a separate page where you can see them. It stays in the memory: penguins, jingle bells, guitars, tin whistles, somalian dances, macarena … that was such fun!
Music Generation
From January on Dave Flynn will work with Carmel's class for 14 weeks doing music lessons. Dave offered guitar lessons to Deirdre's class until the end of 2016 (see here).

With Carmel's class now the focus will be on rhythm, melody and learning songs together.
Dave will be in SSP every Thursday.
Work Experience
Over the next couple of weeks we will have two students doing work experience in SSP.
Shannon Doherty is a student of Early Childhood Care and Education at Sligo IT. She will be with us until April.
Kirsty Conlon is a transition year student from Elphin. She will be with us every Friday for ten weeks.
Sophie arriving
Congratulations to Chloe Nairn who gave birth to her daughter Sophie in December. And welcome to Sophie herself. We wish her all the best in her life. During the absence of Chloe we will have Rachel Bourke as maternity cover for three days every week teaching in SSP.
A warm welcome to Rachel also.
Goalposts
Due to constand exposure to the weather the goal posts of the handball goasl on the yard start to get weaker at the connection to the frame. Together with children from Deirdre's class Robert is making new goalposts in the woodwork room. This work is currently ongoing and the posts will be replaced soon.