Many activities in our school take place outside the actual classroom. On this page we compile information on such activities. We are extremely lucky in SSP to have an indoor hall. We certainly make the most of this facility.
Extending classroom spaces
In SSP the spaces used for various activities extend into the formerly unused corridors between classrooms. The result is stunning. A great range of activities can happen here, with or without immediate adult support. Examples documented here include printing, making pancakes, lego and table football.
A recent addition to the equipment was donated to us by Tom when he left SSP. His racing track now functions as a welcome device for experiments about speed and gravity …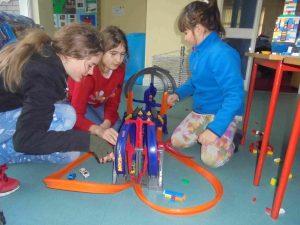 There are also two reading corners with a couch, a bench and well-equipped bookshelves. The entire set-up is also very well used at break times when it rains and the children can't go out on the yard.
The Outdoor Chemistry Lab Volcano Experience …
Mixing magic potions, stuff that bubbles up, bubbles over, erupts like a volcano. Here we go. All done just outside the classroom door in our Outdoor Chemistry Lab: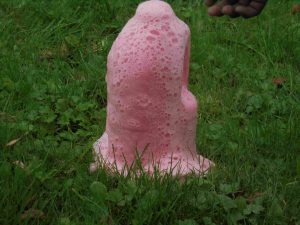 Playing School in  School
Our Chill Room is a fabulous resource for all sorts of drama and play-acting. When children play school in school, there is at first sight a peculiar note about it. But at second sight, this is a pretty good way of learning. The (slightly) older children take on the role of the teacher, teaching the (slightly) younger ones, and thereby reinforcing their own knowledge.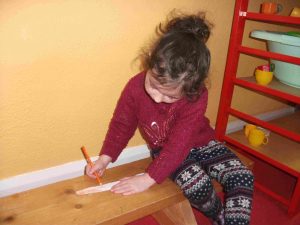 Reading
That the ability to read and write is a basic cultural skill to get on in society is widely accepted. Accordingly we see the acquisition of literacy skills as a hugely important part of the schooling experience of children. This is not to say that children cannot learn to read and write outside of school, too, in fact many do. For the children at SSP we try to establish a climate where reading is an enjoyable activity, where books are cherished and valued as an attractive way to spend time.
Children at SSP find numerous opportunities during the day to simply "disappear" in a book. And there are lots of spaces in the school that are deliberately designed as comfortable reading spaces. They may not look like a traditional classroom setting, but their effect on the children is indisputable: they enjoy reading; on their own, or with their friends.
Tasting the world

Farhio and Hodan brought in food from their home country Somalia recently. That was a fabulous idea. We set up a table in Carmel's classroom for a joint meal and explored Somalia through our taste buds … delicious.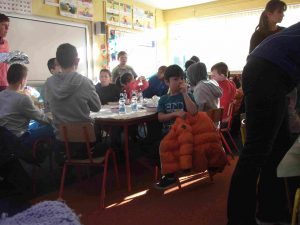 And just as delicious was the treat that Aya brought in a few days later. Ever tried Iraqi food? If not, here is a mouthwatering impression …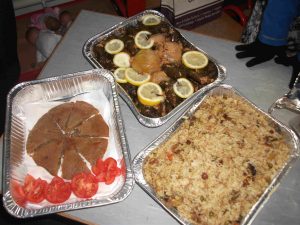 Symmetry
Concepts are the key to understanding maths. A concept that we looked at recently is the idea of symmetry: whatever happens to be on one side of an axis is reproduced as a mirror image on the other side of the axis.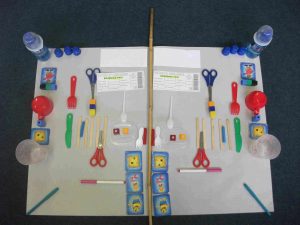 The older children use the hall to practically experiment with the concept of symmetry.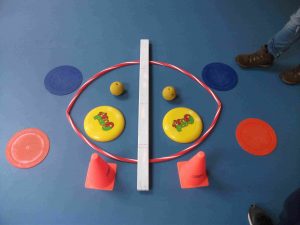 Work in progress … and the finished product:
And then we also transfer the concept into other modes of presentation: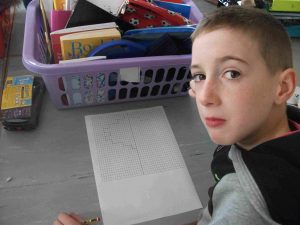 Cake Sale and Jumble Sale
Deirdre's class organised a cake sale and jumble sale again this year. This is nearly a tradition by now since it happened a good few times over the last couple of years. For the children the organisation of the event is a fully-fledged project. It involves all aspects of planning and promoting it, setting up the tables, chairs, games, dishes in the hall on the day, preparing the cashpoint, keeping account of money exchanges, and obviously also selling and buying themselves.
Matthew and Tamas wrote this year's invitation letter:
Dear Parents,
We decided at our school meeting to have a cake sale and jumble sale on Friday the 3rd February at 10.00 am. The money raised will be used to buy resources for the children. If you make cakes or buns, please bring them in after school on Thursday or on Friday morning. Anything that you bring for the jumble sale must be in good condition. Everyone is welcome to come to the sale.
Regards,
Matthew and Tamas
Chess
Chess has become the latest fun activity enjoyed by the children in Sligo School Project. Deirdre has begun chess lessons with the children from 2nd to 6th classes and already, the children have mastered the basic skills and are enjoying playing games together. A website that is free of charge and allows children to play chess against a computer is: www.chesskid.com – it is a good website for beginners as it shows the child all the possible moves each piece can make which helps them to improve their game. It is well known that chess is a strategic game involving mathematical thinking so the children are developing their minds as well as having fun. If any of you as parents/grandparents play chess we would love to hear from you.
Snail Alert
There is something rather interesting about these slimy creatures. They lay eggs, they have no legs and still can move, the snails even carry a house on their back. No surprise that many of the children have taken a certain liking particularly for the snails. Frequently they collect a couple of them, put them together into a box, feed them and observe them closely.
New Design on Yard
As part of a health promotion program the school got the opportunity to put down a parcours on the school yard. Large stencils were used for that.
Paul, Deirdre and Agnieszka coordinated the painting. All children had a go at using the spraypaint.
The eventual result was a parcours in which different moves, skipping, running, jumping are involved. This is how it looks on the yard:
Izaq 9 Maths Equipment
Paul Conlon, the School Completion worker, recently brought some maths equipment into the school for the children to use. It is a set of cubes which are used together with an interactive website to help children develop their maths skills. The idea is that the children work in small groups to solve various mathematical tasks. The process is just as important as the result. Through communication, trial and error, discussion and co-operation, the children learn from each other and have a lot of fun in the process. We will have access to the equipment for a number of weeks and the children should benefit greatly from this opportunity. The material is linked to an interactive webpage and if you are interested to see what this is about you can check this out here.

A Novel Way to Learn about Fractions
Once again, the children integrated maths and another area, cooking. They made home-made pizza and when it was cooked, they cut it into various fractions, half, quarter,  twelfth. By the end of the class, the children knew that they would much prefer to have half than one twelfth! To give you an impression of the mouthwatering character of mathematics here are some snapshots.

We don't add pictures of the subsequent lesson in healthy eating, but rest assured it was yummy!!!
Practical Maths
As much as possible, the children learn mathematical concepts through activities. Here you see the children learning all about length using rulers, metre sticks and trundle wheels. Learning is fun and that's as it should be. Activities like these allow the children to work in groups which is an important skill in life. We use the entire school building for these activities.

Halloween Games
It has become a tradition at Halloween that the children dress up and play a variety of Halloween games. This is something that the children look forward to every year. The costumes were great and a lot of fun was had by everyone.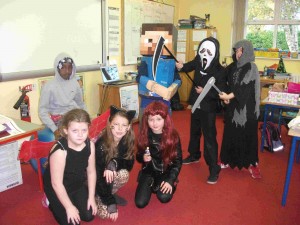 Rosh Hashana
While learning about the Jewish Festival, 'Rosh Hashana', the children had fun eating apples dipped in honey which is a traditional food eaten by Jews during this festival. The honey symbolises a sweet new year which everyone hopes to have.
Fruit Party
The children in Carmel's class recently learned about healthy eating and the importance of fruit and vegetables in our diet. At the end of the course of lessons, they went to the shop to buy a variety of fruit. Back in school, they enjoyed a fruit party. Tasting new fruits was a lot of fun for the children. The good weather helped to make the day an enjoyable one.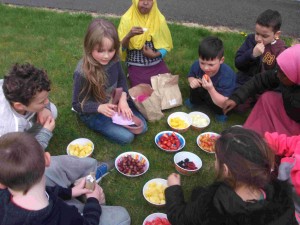 Energy Workshops
Deirdre applied to have someone from Sustainable Energy Authority of Ireland deliver workshops to the junior and senior classes. A girl called Ciara delivered the workshops. They were very informative and interactive with the children playing a fun game in the hall at the end to help reinforce the concepts learned. They also carried out various experiments related to energy which the children enjoyed, for example how energy is transferred and how energy is created during a chemical reaction. The children learned  about climate change and global warming. They learned that CO2 (carbon dioxide) is harmful to the atmosphere in that it does not allow the sun's heat to escape which means that our climate is changing rapidly. Most importantly, they learned about ways in which we can save energy in our homes and schools and also, they learned that there are renewable sources of energy which we can use to make electricity instead of always burning fossil fuels which harm the atmosphere. The topic of energy is certainly very topical and by learning about climate change, the children will be able to make a difference by saving energy and by encouraging others to do so also.